Painting your house to sell is different than painting your house for the long term. For long term painting, you can incorporate your taste and style but for selling, you need to think of a broad range of tastes and styles. Remembering these two things when picking your paint colours can really help.
1. Less is More!
Keep it simple. It's a great idea to choose fewer colours and have the lighting change the tones for you. This creates a monochromatic look and keeps it feeling very open and spacious.
2. Keep it Neutral!
You want buyers to envision themselves living in this home. By keeping it neutral it allows the house to appeal to more buyers. Sometimes intense colours can be off putting and therefore may limit the number of potential buyers.
Here are some examples of colours that we recommend to get you started. As stated in a previous blog post, you want to make sure that you're not just choosing your colours from a computer screen. It's a great idea to come into the store and look at the paint swatches. We would love to help you out.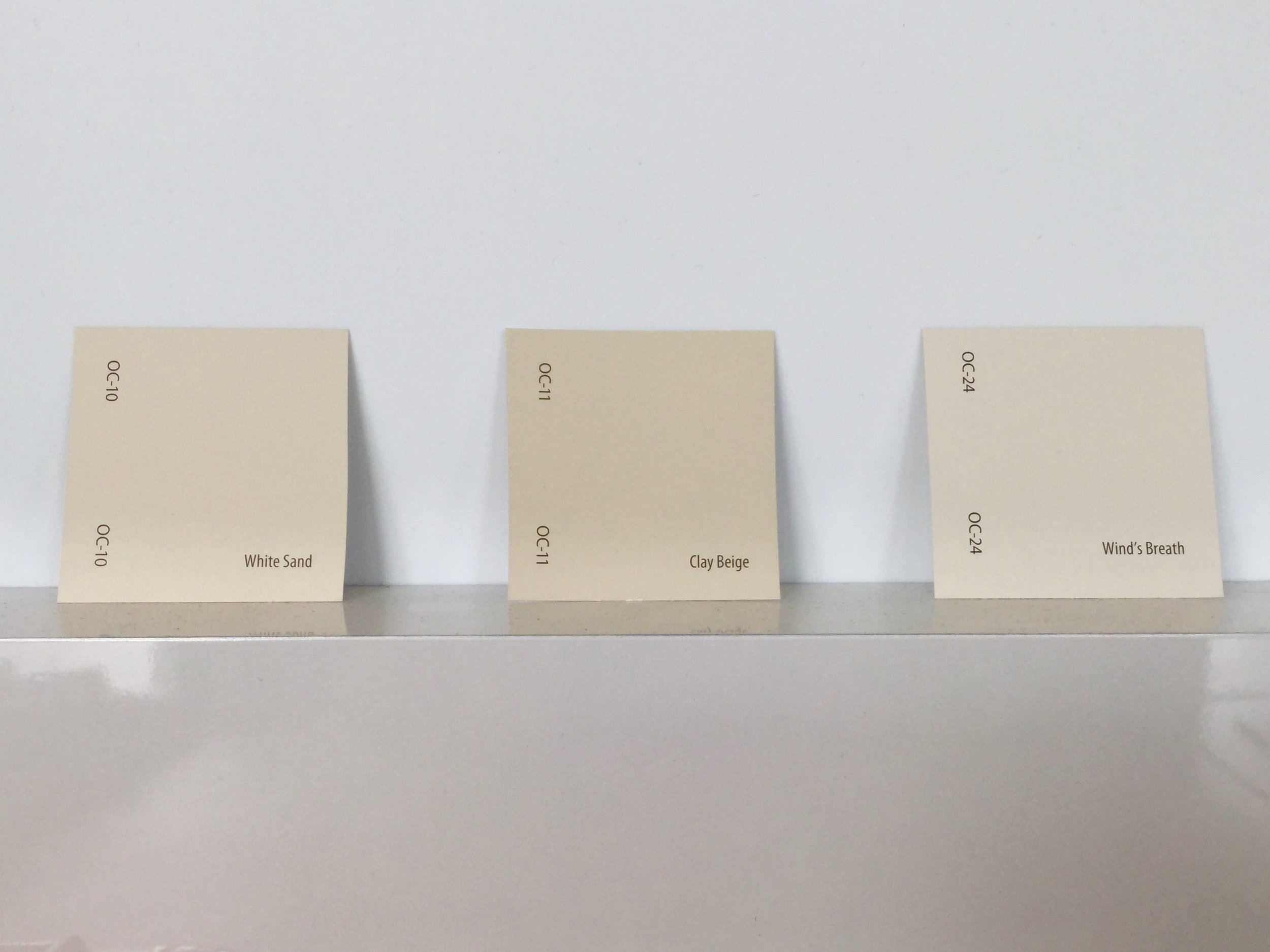 Neutral modern beige
OC-11 Clay beige/OC-10 White Sand/Oc-24 Wind's Breath
Crisp light grey
OC-52 Gray Owl/OC-55 paper white/OC-49 Titanium
Warm Light Gray
OC-28 Collingwood/OC-27 Balboa Mist/OC-20 Pale Oak
Designers and stagers love
HC-173 Edgecomb Gray/ HC-172 Revere pewter/Af-80 Jute
Trendy Grays
2108-60 Abalone/2112-60 Cement gray/2108-50 Silver Fox/2112-50 Stormy Monday
Fresh Clean Grays
2121-50 Iced Cube Silver/2124-50 Bunny Gray/2121-40 Silver Half Dollar
Updated sage
CC-606 Spanish Olive/OC-50 November Rain/2142-50 Gray Mirage
Soft Creamy yellow
Af-305 Ylang Ylang/HC-6 Windham Cream/HC-5 Weston Flax
Soft White
OC-118 Snowfall white
Clean White
OC-65 Chantilly lace
Bright White
CC-20 Decorator's White